---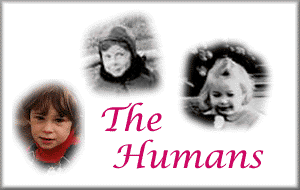 Well, the feathered and furred critters finally
"allowed" me to work on our human pages. There are three of us human critters here. I am the little girl up there, my husband, Thomas, is the boy with the devilish grin, and our son, Jaime, is the cute, wistful little boy - but none of us looks like that any more...

This is the index of all the human pages. The site WebRings
are on the WebRings page. This part (well, ok, the whole
darned site) is always under renovation, and your patience is
appreciated. Check the "Computer Prayer" below :-)


















The Human Family
Come Meet The Gang
Who are these strange people?
Wichita, Kansas
Where we now live...and yes, with the Tornadoes.
Come and meet Wyatt Earp and
a few other of the Infamous Ones.

Lake Winnipesaukee
Where we used to live...
See the lake, Alton Bay, learn
about New Hampshire. Pix - and
I made some great BGs too :-)

Olde Tyme Photo Gallery
Of Days Gone By
(We won't mention how long)

Interests & Hobbies & Links, Oh My!
All sorts of areas to explore
including an HTML Tutorial, The
Planets, XFiles, Postcards, Sweeps,
JAVA, Beanies, Holidays, Quotes,
and the 3 WebRings I manage.

Avian Critter || Canine Critter || Wild Critters || Beanie Critters
Main SiteGuide
Site Awards || Site WebRings

A COMPUTER PRAYER
God bless my mom and dad
and bless my children and
take care of my husband,
he brings me so much joy.

And God there's just one more
thing I wish you would do,
if you don't mind me asking,
to just bless my 'puter too??

Now I know that it's not normal
to bless a small machine,
but listen just a second
and I'll try to explain.
You see, this little metal box
holds more than odds and ends.
Inside those small components
rest a hundred loving friends.

Some it's true I've never seen
and most I've never met,
we've never shaken hands
or ever truly hugged, and yet,

I know for sure they love me
by the kindness they give
and this little scrap of metal is
how I get to where they live.

By faith is how I know them,
much the same as I know you.
I share in what life brings them,
so if it's ok with you -

Just take an extra minute
from your duties up above,
to bless this little hunk of steel
that's filled with so much love.

__________________________________________________