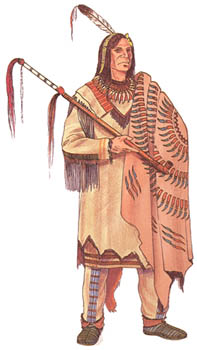 Their name may be derived from "willows," the name of one of their villages. The Mandan called them minitaris, "those who crossed the water," referring to their first encounter on the banks of the Missouri. For the french trappers, they were "River Big Bellies" (and a possible confusion with the Gros Ventres).
Their language was siouan along with the other divisions: Dakota Sioux, Dhegiha Sioux, Chiewere Sioux, and Mandan Sioux.
They were a branch of the Crow with whom they were closely linked.
As neighbors of the Mandan on the Missouri, they had the same way of life. They did not practice the okeepa, but did the Sun Dance, which also features mutilation of the body. They had many societies to which both men and women belonged, including the Dog Soldier Society for men and the White Buffalo Society for women.
They had the same "visitors" as the Mandan and were stricken by a smallpox epidemic.
They numbered 2,500 in 1780 and 731 in 1937 at Fort Berthold, N. Dakota.